Fewer metal halide lamps are needed to generate the same light as incandescent or fluorescent lamps, reducing the impact of lighting on our dwindling landfill space. As the example shows (15) 150 watt incandescent lamps give the same light as (10) T5 Fluorescent lamps or just (1) of Venture's Uni-Form® pulse start metal halide electronic system.
Less Light Pollution
Smaller jacket sizes, like our horizontal operating H75 tubular lamps, are perfect for cut-off luminaires which control glare and light trespass. Put the light only where you need it! .
Saving the Environment
with Venture's Smartpac® Recycling Service
For more information Smartpac and on how Venture can help you take an active part in saving the environment, click here.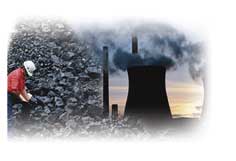 A satellite image of the earth at night shows the concept of light pollution