Venture Lighting's BiPin (G12) Lamps are available in 70 to 250 Watts.
Venture's Double Ended Lamps are available in 70 - 250 Watts. These lamps have compact configuration which provides excellent optical control in smaller fixture designs.
Venture's High Wattage Double Ended lamps are available in 1000 - 2000 Watts. These European style lamps are used for large area floodlighting and sports lighting applications.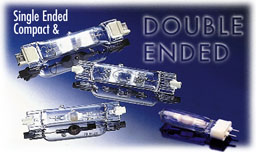 Select a lamp type:
Double Ended (70W-250W)Single Ended Compact Lamps (70W-150W)
High Wattage Double Ended (1000W-2000W)